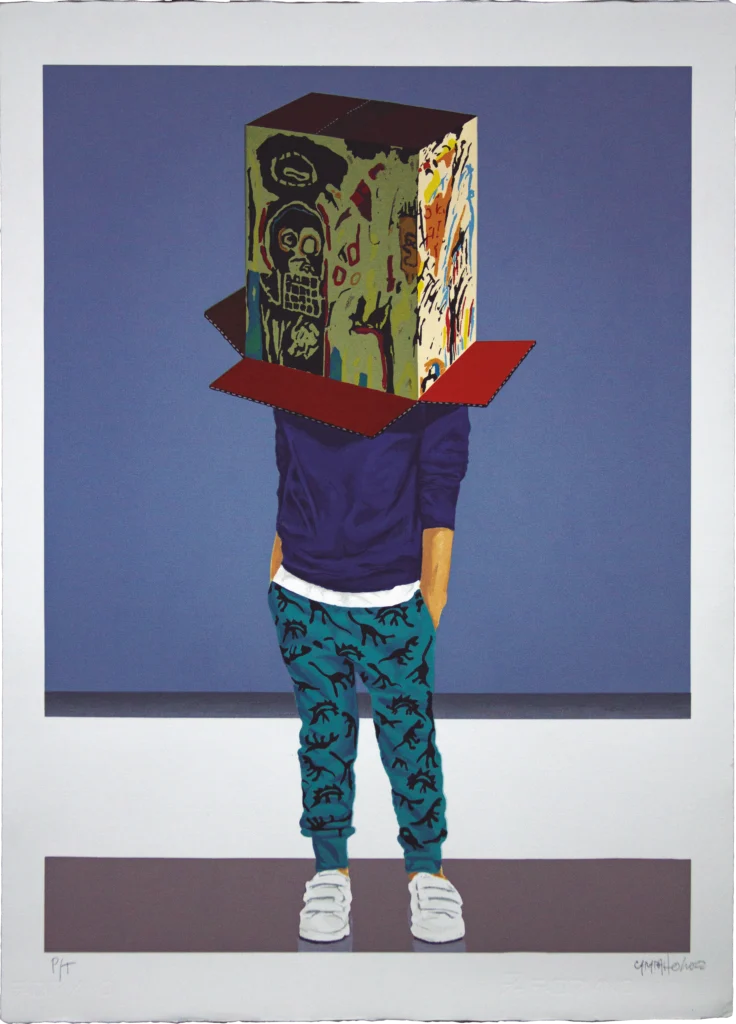 Caraballo's proposal does not settle here, but is complemented by the indeterminate use of works typical of modern art, which, with the presence of children in their production, fosters a different meaning from that of the idiosyncrasy of the masterpiece to which the artist refers. This series, in which the artist has worked for more than ten years, carries an aesthetic discourse that reflects the constant interest in revealing the expressive capacity of childhood, making use of canonical artists such as Pablo Picasso and Joan Miro, until addressing works by contemporary artists such as Kaws and Murakami, who have influenced the origin of postmodern art movements such as Superflat. In this way, the artist appeals to superimposition to give preponderance to the candid gestures of children, which are redrawed in close-up to reveal a tacit sensitivity that, without the presence of children, would remain a simple appropriation.
Javier Caraballo proposes a visual paradox, engaging the viewer through the silent exchange of gaze and non-verbal language. This compendium of works will give rise to the aesthetic discourse and technical mastery of the renowned artist, to act not only with memory by reclaiming memories and erudition, but also wishing to desacralize artistic works to convert them through the innocent gesture into a new artistic experience.
Javier Caraballo is a Master of Plastic Arts from the Faculty of Fine Arts of the Universidad del Atlántico de Colombia. His research is directed towards the study of painting and drawing as a graphic language for children and the great works that have shaped the history of painting. This exhibition becomes his seventh individual exhibition, to be held for the first time in the city of Medellín, after actively participating in fairs and exhibitions in cities such as Cartagena, Bogotá, Panama, Caracas, Santo Domingo, Florida and Brussels until becoming the artist from the Private Collection of the Prime Minister of Luxembourg and the Royal Family Collection of Monaco.